Technical Content of the Model
FOREST FIRE RISK DETERMINATION SYSTEM
In this work, the factors which cause forest fires with previous forest fires and field observations were analyzed and the weight of each factor was determined by using analytical hierarchy method. The forest fires were firstly divided into main risk factors and later each risk factor was separated into subfactors. All factors which cause risk of fire were scored along with paired comparisons made.
1.Criteria of Forest Fire Risk Analysis Model
(Pre-Fire Risks)

1- Proximity to Energy Transfer Lines
2- Distance to Agriculture-Forest Intersection
3- Past Fires (Chronology)
4- Risk of Burning of Tree Types
5- Potential Risks According to Types of Vegetation Cover
6- Closeness to Forestways
7- Closeness to Main Road
8- Closeness to Highways
9- Exposure Analysis
10- Proximity to Rural Settlement Places(Villages)
11- Directions of Dominant Wind in Fire Season
12- Ground Surface Temperature
13- Extreme Minimum Temperatures
14- Vaporization Extremes
15- Risk of River Basins(Vadi –kanyon)
16- Risk of Household
17- Social Risk According to Number of Fire in Villages(Criminology)
18- Magnitude of Settlement Area and Number of Population Living
19- Height (Altitude)

Bodrum Forest Management Department -Maps of Risky Regions prior to Fire
(Risk rating : min: 6 – max: 367 )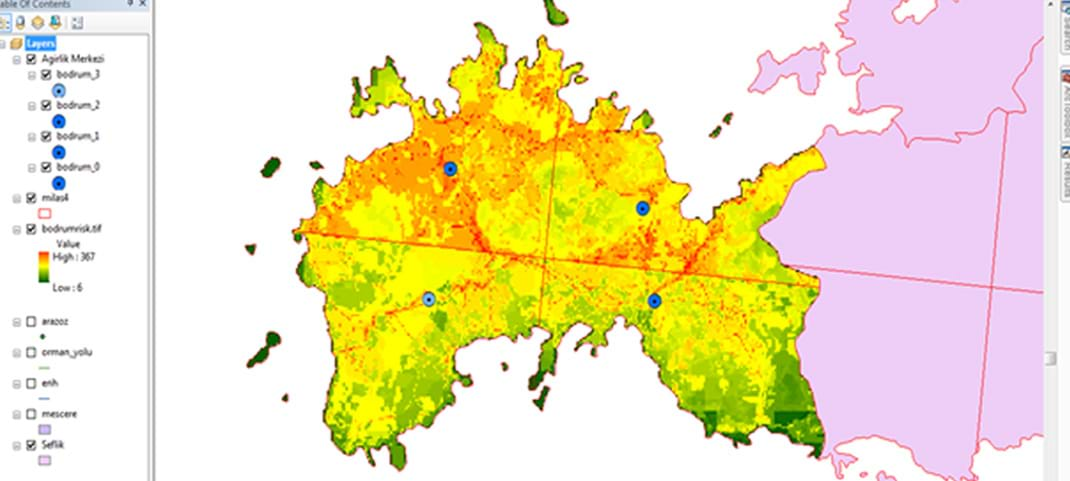 2. Criteria of Operational Fire Extinguishing Vehicle Management System
(Risks After Start of Fire )
1 Unreachable Regions and Geographical Barriers ( coasts of sea and lake, streams, deep canyons,)
2 Artificial Structural Barriers (tunnel, separated roads, bridge, highway, railway, military prohibited regions)
3 Traffic Density Index (closeness to city centers-late intervention to fire)
4 Opportunities of Approach and Intervention to Fire according to Types of Vegetation Cover
5 Types of Roads Passed in Unit Time (Highway, Double Road, Trackway, Village and forest roads)
6 Struggle Challenges in High Altitude Mountainous Regions
7 Opportunities of Intervention in Agricultural Areas and Open Areas
8 Opportunities of Intervention in Low Inclined Areas from Land
9 Conveniences of Intervention in Areas Near Road
10 Efficiency Potential of Land Vehicles(Sprinklers)
11 Efficiency Potential of Air Vehicles (Distance to centers of helicopter)
12 Potential of Regional Water Recruitment (distance to water resources to be supplied from air land)
13 Pressure of Fast Intervene to Fire (expectation of social, mediatic and administrative excess performance on fire- extinguishing teams)
14 Specific Fires in Strategic Facility and Industrial Areas (Pipelines-Petrochemistry-Military Establishments)?
15 Severity of Wind (Transportation of land+air vehicles and limits of intervention )
16 Distance of Invisible Areas to Fire Observation Towers(late notice)

Bodrum Forest Management Department Operational Fire Fighting Activity Map
(Risk rating min: 212 – max: 408 )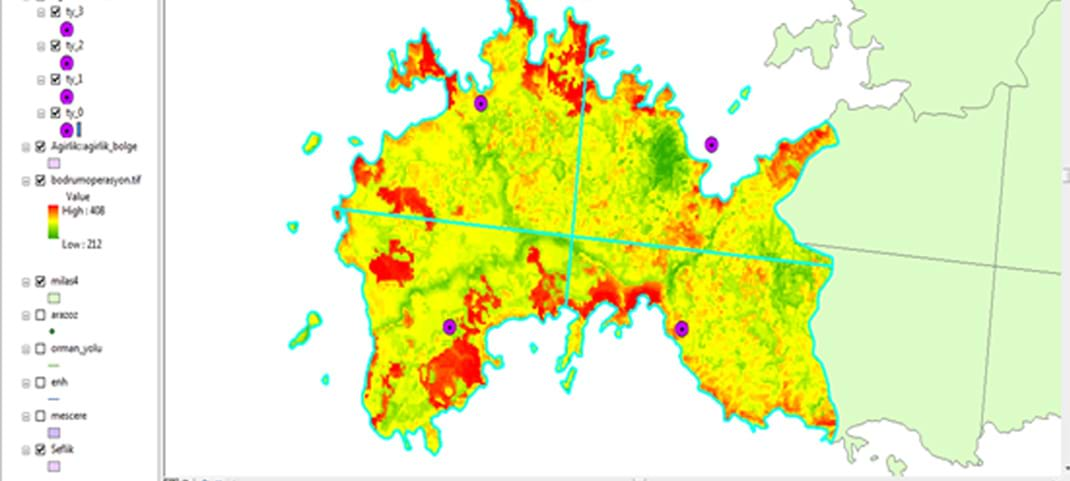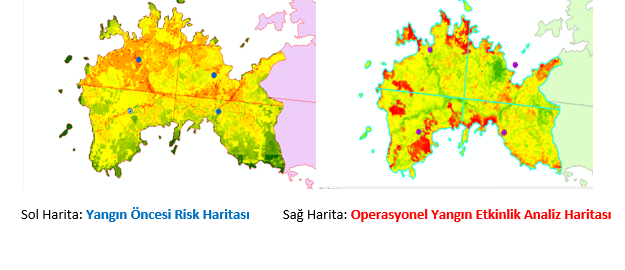 Left Map: Pre-fire Risk Map Right Map: Analysis Map of Operational Fire Activity
Two models OYRAM+ OYAYS SYSTEMS Area analysis can be performed in 100 m*100 m :10.000 m2 (1 ha) pixel sizes by grouping total 19+16 : 35 different criteria in 5 different degrees.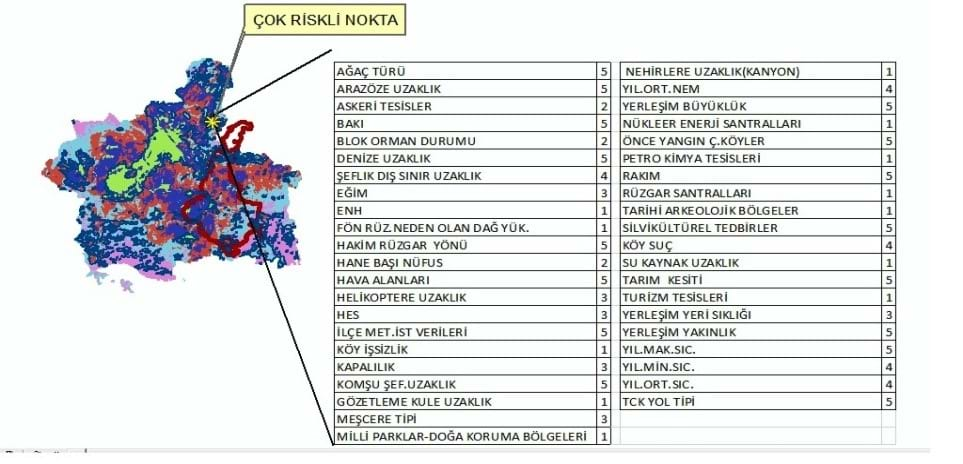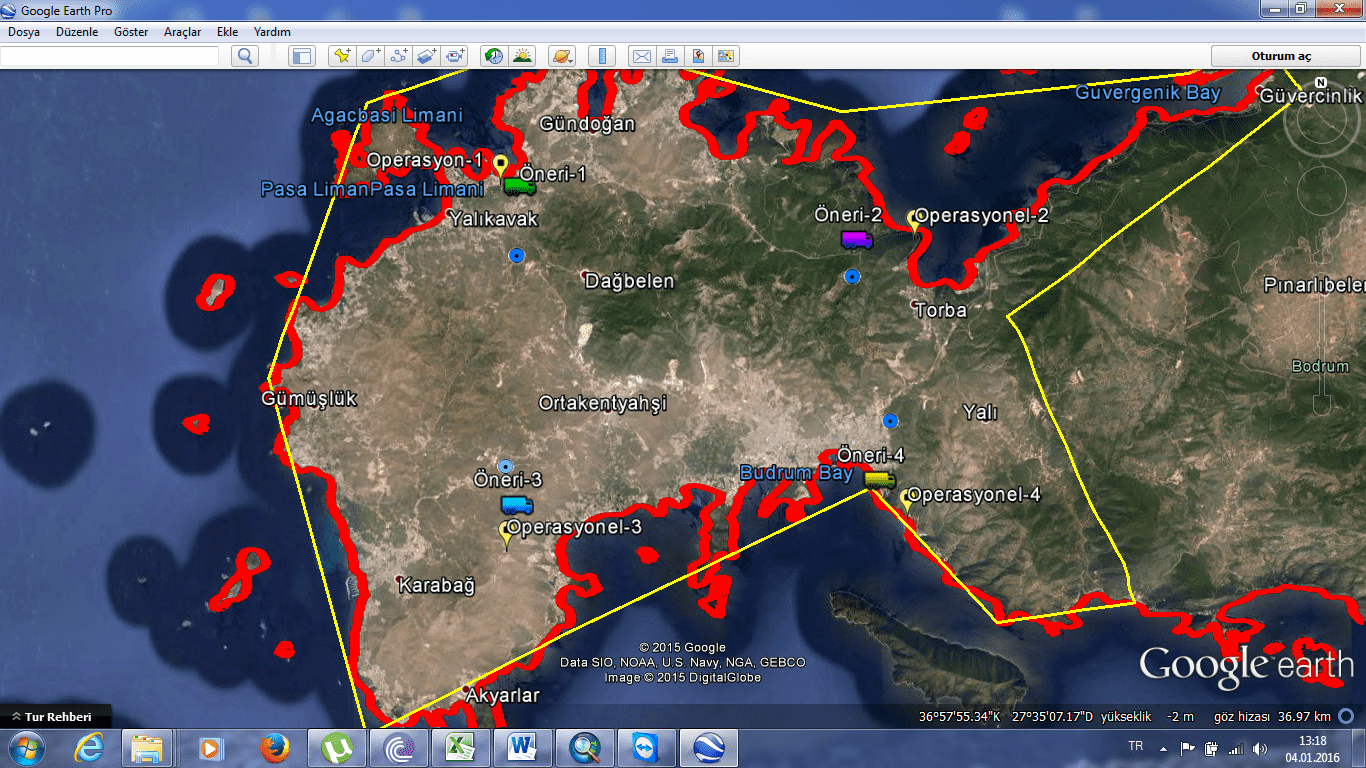 3-dimensional Evaluation and Suggestions made for the region according to Results of Risks and Analysis
These two models developed by us are jointly operated and this can be used efficiently in prevention and early intervention for extinguishing fire as soon as possible prior to or after forest fires.