An efficient fight should be carried out against fires by creating technical estimations in the region in which any forest fire has not broken out before in order to protect the world ecosystems in the best way against the forest fire risks which may convert into a disaster due to global climate change in the future.
Scientific data has been obtained by analyzing 60 large forest fires affecting an area of 91.378 hectare totallyincluding 46 large forest fires affecting an area of 66.345 hecrate and causing economic loss of 108.193.498 US $ at least and 12 forest fires breaking out in northern region in which there had not any fire breaking out before in Turkey between 1985 and 2006 and 2 large forest fires in Cyprus in 1995 and 1998 while developing the model.
Economic resources can be provided to new projects to protect nature and people by means of budget surplus which shall be obtained by preventing great economic loss (incurred by fires causing billions dollars of economic loss) with the active defense strategy offered by the model.
It is an operational fire risk software which can foresee the optimum points that the ground-air firefighting team should locate before and at the moment of fire by means of artificial intelligence.
Matrix and interface software utilized by the model present new approaches to global forest fire defense systems.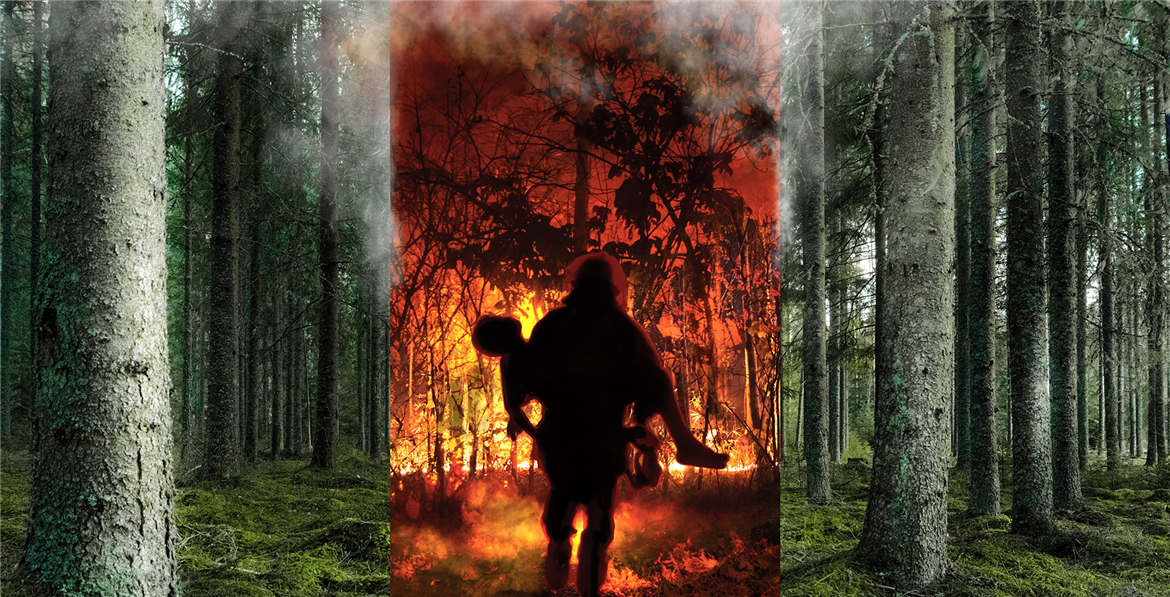 As distinct from software prioritizing meteorology and flammable material features, the matrix can produce analysis maps for early warning system by considering the outbreak reasons, social humanity factor risks, fixed risks on earth and meteorology data of long years.
The model presents new strategies to the departments requiring active defense in addition of the fixed defense systems such as water shield. It can indicated the flight routes for extinguishing helicopters to carry our checking flights as air patrol in critical weather conditions before the fire. It can provide support for observation works performed by watch-towers and cameras on ground and unmanned aerial vehicles and satellites on air by pointing out the risky areas before fires and the possible points causing fire outbreak.
As the model is a software creating regional and territorial fire risk maps in macro-level, it defines the small fires, which has little possibility to become a large fire, as acceptable, and gives low-level importance. The unpredictable sabotage possibility out of the region is not evaluated in the scope of risk.
After completing the research and development works, manual risk maps have been constituted by digitalizing risk maps and layers in the adaptation process by means of application units in the second stage before the model is converted into the software in the first stage.
It has been observed that the monitoring process and prepared sample plans between 2008 and 2012 have taken successful results by locating the air vehicles and ground teams to the newly determined points by application units during the adaptation works.
The observation results of the model in the application converted to a computer software based on geographical information system (GIS) by means of entrepreneurship program in Dokuz Eylul University Technology Development Offices (Teknopark) in 2017 as a result of the calibration of matrix criteria, and was patented by Turkish Patent Institute at the same year.
The model, which was converted to a software, was operated in Regional Directorate of Forestry of Mugla – Bodrum Directorate of Forestry firstly. The obtained analysis results were checked by technical personnel in charge, and it was seen that the model could create vital information in a short time and could be useful.
Our company is ready to cooperate with private sector and public organizations in order to apply the current model and the experiences.
Bodrum Forestry Department Maps of Pre-Fire Risky Areas
(Risk rating: min: 6 – max: 367)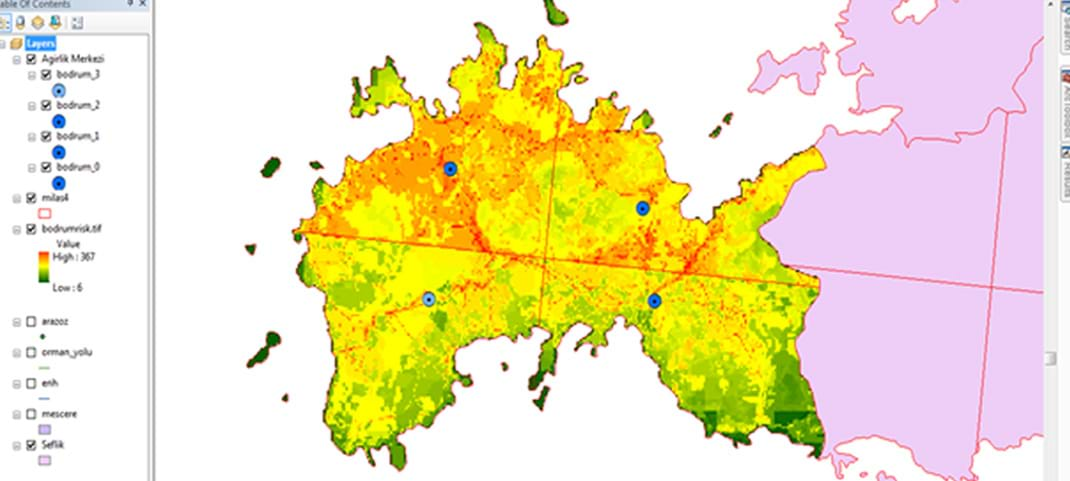 ---
Bodrum Forest Operation Chief Operational Fire Fighting Activity Map
(Risk rating min: 212 – max: 408)